March 8th a time of the year when we celebrate women and girls from around the globe. From the school girl in a rural community to the woman heading a Fortune 500 company, the international women's day recognizes that everyone indeed matters. As we reflect on what the day means for us, I thought about  how the themes for IWD has in a way, evolved but essentially stayed the same. From #BalanceForBetter to #ChooseToChallenge, from #EachforEqual to #BreakTheBias. The discussion has centered on having a balanced world for all gender, calling equality and to put an end to intrinsic biases that are stereotypically used to hold women down. As we said two years ago, what happens to these discussions beyond the hashtags are what would be bring the change we so desire. 
The 2023 theme of the IWD, #EmbraceEquity is a call to action for people to be fair to all, It hopes to get people to understand the equal opportunities isn't enough? But what is? At what point do we cross over from equity to being partial?
One of the main ways to embrace equity to look around our communities and identify people who are underserved. This is what Speakout Africa is doing this year through the 6th edition of the #LetItFlow initiative is here again and we need you on board.
Six years ago, our organization, Speakout Africa started an initiative to help solve period poverty among incarcerated women. This project has helped us reach over 500 women across prisons in Nigeria with hygiene products. Through this initiative, we also reached out to pregnant and nursing women, providing them with nutritional products and birthing kits. We went further to donate drugs and clinical supplies to the prison clinics which both men and women accessed. Finally, out of our meagre resources, we've also reached over a thousand men in the prisons we visited. This year, however, our project is taking a different turn.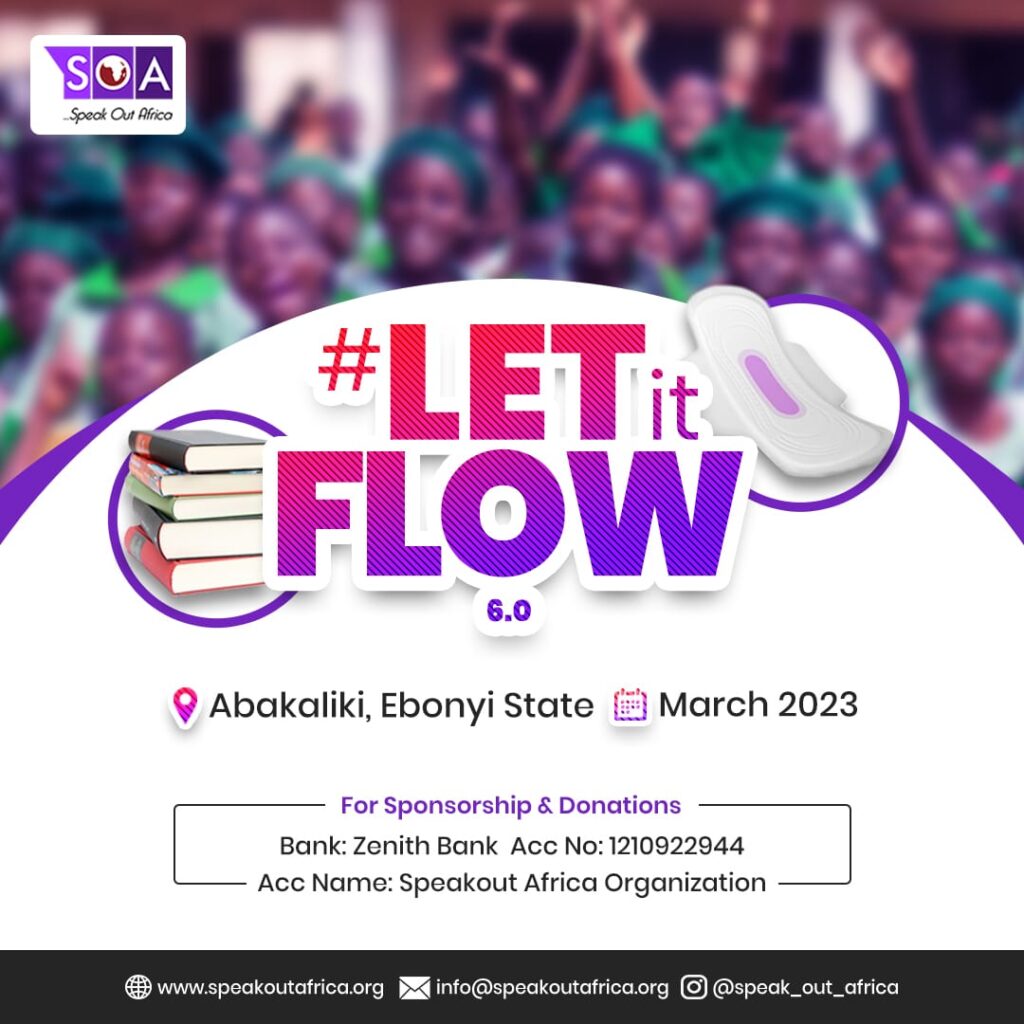 #LetItFlow6.0 is beaming its light on secondary schools in underdeveloped areas starting with Abakaliki, Ebonyi state. Educational disparities are commonplace in the state with agriculture being the mainstay of the economy. Many young people of school age often have to go to the farm or artisanal mining sites to provide food for their families. Many girls, have to miss school during their monthly cycle as a result of period poverty. Our goal is to provide the girls with two month worth of sanitary products and teach the importance of menstrual hygiene practices. Additionally, the IWD has placed an emhpasis on including women and girls to the digital economy. To that effect, we wlii be hosting career talks with the girls from this community with a priority on digital career options they can pursue.
With your support, we will be buying hygiene products for over 250 school girls. Your support will also help us set up a mentoring program for the girls which will include but not be limited to paying for boot camps for girls interested in working in the tech space.
To support this initiative, kindly donate to our organization using the detail below.
Our Account Number is: 1210922944
Account Name: Speakout Africa Organization
Bank: Zenith Bank Plc
Happy International Women's Day from all us at Speakout Africa.